Surface treatment of fasteners
Correct surface treatment of fasteners prevents corrosion and produces more secure joints
Rust damage can cause breakdowns due to load-bearing structural elements having been weakened through corrosion of various kinds.For this reason it is extremely important to select the right type of surface treatment for fasteners.
It is also important to take care when choosing materials.Always select fasteners made from a material that has the same or almost the same nobility as the material in which the bolt is being installed, if the joint is to be exposed to a damp environment.See combinations in the table.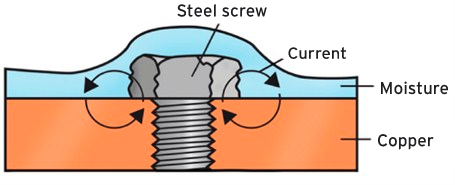 If the steel bolt is installed in a more noble material, such as copper, the bolt will "sacrifice" material and speed up the corrosion attack on the bolt.




If the same steel bolt is installed in a less noble material, such as zinc, the situation will be reversed.The installation material will "sacrifice" material instead of the bolt.
Surface treatment of fasteners
The approximately lifetime of surface treatments in different environments is shown below.
Environment
Bright zinc-plating 10µm
Hot dip galvanisation 55µm

Indoors
Countryside
Small towns
Cities
Coastal atmosphere, West coast
Industrial atmosphere, mild
Industrial atmosphere, normal
Industrial atmosphere, harsh

50 years
8 years
5 years
2 years
5 years
4 years
2 years
1 year

-
40 years
28 years
11 years
38 years
20 years
11 years
5 years
The approximate lifetime of A2 (stainless steel) in an industrial atmosphere is 25 years and in a coastal atmosphere 50 years. The approximate lifetime
Material composition
The table below shows how various materials work together from a corrosion perspective.
 
Bright zinc-plating
Hot dip galvanisation
Alu
Cu/Ms
A2
A4

Bright zinc-plating
Hot dip galvanisation
Alu
Cu/Ms
A2
A4

++
+
+
-
-
-

+
++
+
-
+
++

+
+
++
-
+
++

-
-
-
++
-
-

-
+
+
-
++
++

-
++
++
-
++
++
++ = Good
+ = Acceptable
- = Not good